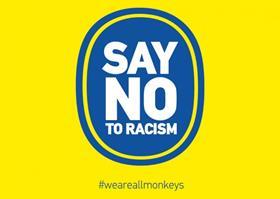 Chiquita Hellas has embraced the global anti-racist campaign #weareallmonkeys by launching a short campaign of its own, using digital, social print, and TV media.
After recent racist events in various footbal games worldwide, and following the example of Barcelona's football star Dani Alves, many celebrities from sports, entertainment and politics have shared their personal message against racism by taking photos of themselves eating bananas and posting them to digital and social media all over the world.
In an effort to join forces with this very important cause, Chiquita Hellas has attemped to convey the message to as many people as possible by utilising the message "Say No To Racism", which has appeared inside the iconic Chiquita logo.
The campaign has been welcomed with positive reactions not only in Greece but also in Europe, and has helped to convert bananas to a worldwide anti-racist symbol.