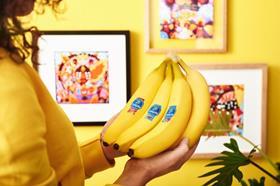 Chiquita has chosen famous Spanish artist Ricardo Cavolo to develop a special edition of its iconic Blue Stickers, as it looks to celebrate the year-end holidays.
According to the group, Cavolo has created five special Chiquita stickers using the digital Google Tilt Brush, a virtual reality (VR) app that generates art in 3D, allowing the audience to immerse themselves in his creations.

Cavolo's artistic universe is 'closely aligned with the Chiquita brand', the group noted, leveraging the same values, look and feel – intense, flamboyant colours, with exuberant use of yellow, vivid images, graffiti and pop/tattoo images.
'His art is rich in symbolism: it always features two males and two females, representing gender equality, and each person has two pairs of eyes as a symbol that seeing is knowledge and power. This symbol sprung from a childhood experience – his stepfather could not read or write but used to say he didn't need to, as he saw everything, and this gave him knowledge.

The artist's emblematic symbol is a heart with flames at its core, a representation of the power within each of us. Ricardo grew up within the gypsy community and believes this gave him the ability to see that there are two types of society – to him, the most beautiful is the one people ignore and try to avoid.'
Through VR, Cavolo's stickers will give Chiquita customers 'the gift of experiencing a pioneering, unforgettable and magical world'.
These new special edition stickers are available to view here.