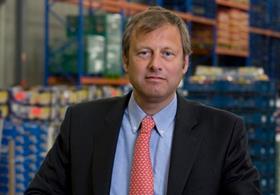 The head of Univeg's fresh produce business has said the potential impact of a planned merger between multinational fruit companies Chiquita and Fyffes is 'difficult to predict' but is certain to bring about some kind of evolution in the international market.
Speaking in the May issue ofEurofruit, Francis Kint indicated Univeg's business relationship with Chiquita was likely to remain unchanged, adding that the Belgium-based group would continue to develop and invest in its network of banana ripening centres across Europe.
'Of course the merger ChiquitaFyffes will change the market but what impact it will have is difficult to predict,' Kint explains.
'Univeg and Chiquita are close partners for a long time and our relationship is based on trust. It is our role, as a service provider, to optimally control the supply chain and to deliver the best possible service to Chiquita.'
Commercial partners
The two companies have enjoyed a close working relationship over the past decade, notably following the sale of Chiquita's German import and distribution business Atlanta to Univeg in 2008.
The €65m (US$92m) deal included a long-term agreement whereby Atlanta continued to serve as Chiquita's preferred supplier of banana ripening and distribution services in Germany, Austria and Denmark.
According to Kint, who spent nine years in charge of Chiquita's business in north and eastern Europe,efforts to increase efficiency and sustain service quality will continue to be the focus for Univeg in its commercial partnership with Chiquita.
'As you know, Univeg Deutschland has many service centres with ripening facilities in the country and, over the past few years, we have invested in our ripening rooms and upgraded the technology,' he noted.
'This, not only to make the ripening rooms more energy efficient but also to obtain optimal ripening results of various produce for our customers.
'We will continue to keep on investing in the ripening rooms in the future so we can offer the best service to our customer base, as requested by them.'