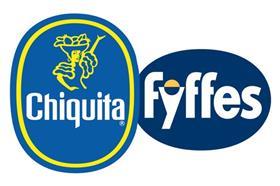 Chiquita Brands International has announced that, based on the votes cast at today's (24 October) special meeting, Chiquita shareholders have not approved the revised transaction agreement with Fyffes plc.
The move comes despite Chiquita's board continuously voicing its preference for a combination with the Irish group, over a rival bid from Brazilians Cutrale and Safra.
In a statement released by the US group, Chiquita said both it and the Irish company had delivered notice to terminate the transaction agreement, and outlined that the proposed combination with Fyffes had lapsed for the purpose of the Irish Takeover Rules.
In addition, Chiquita said that it expected to enter into discussions with the Brazilian combination of Cutrale and Safra regarding their revised offer to acquire all of the outstanding stock of Chiquita for US$14.50 per in cash.
The Charlotte-based company has already rejected one bid from Cutrale, an orange juice maker, and Safra Group, a banking conglomerate, of US$14 per share.
'We appreciate the consideration and perspectives of all Chiquita shareholders who participated in this process,' said Edward Lonergan, president and CEO of Chiquita. 'Given today's results, we have determined to terminate the agreement with Fyffes and to engage with Cutrale/Safra regarding its revised offer.
'I want to thank David McCann and the entire Fyffes team for their efforts throughout this process,' he continued. 'While we are convinced they would have been a strong merger partner, we will now go forward as competitors.We would also like to express our gratitude to Chiquita's employees for their hard work and dedication on behalf of Chiquita and our customers.'
Chiquita added that no definitive agreement with the Cutrale-Safra combination had been reached, and noted that there can be no assurances that any transaction will result from those discussions.
'Chiquita does not expect to update the market with any further information unless and until the board has reached a final decision,' it concluded.