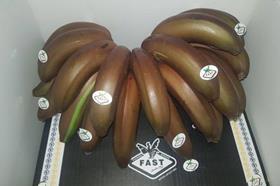 Consumers in the Canary Islands can now buy locally-grown red bananas thanks to a joint venture between the Alcampo hypermarket group and Tenerife-based producer La Fast.
According to La Fast's commercial director, Miriam Reyes, production totalled 25 tonnes of in 2019/20 and is set to grow to 33 tonnes in 2021.
Speaking to El Español, Reyes said most of the fruit had been sold in Alcampo stores on the islands so far. But there are plans to market the bananas on the mainland as production volumes grow.
"There is a lot of demand for this product but as we have only been producing red bananas for a year and there is still a lack of supply – at present they account for just 3 per cent of all the banana we grow," Reyes said.
The plant material was supplied by Cultivos y Tecnología Agraria de Tenerife (Cultesa), a local company that has been involved in developing propagation material for red bananas since 2009.
The variety of red banana grown by La Fast comes from Southeast Asia but has been found to be well suited to the Canary Islands climate.
Cultesa said demand for red banana plants has seen a five-fold increase in the last two years.