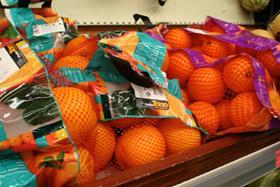 New-season citrus production in the Mediterranean countries of the European Union is likely to be around 5 per cent down on last year's figure at just over 10m tonnes, according to data published by European fresh produce association Freshfel Europe.
The decrease is expected to be in contrast with the trend for non-EU citrus-producing countries in the Mediterranean basin, where production is predicted to rise by 6 per cent in 2011/12 to 8.46m tonnes, leaving the region's overall crop largely unchanged compared with 2010/11 at 18.48m tonnes.
In Spain, forecasters are predicting a 10.6 per cent decrease in citrus production to 5.53m tonnes, with soft citrus 12.9 per cent lower (1.91m tonnes) and oranges 10.4 per cent lower (2.69m tonnes).
For lemons, Spain is set to produce 6.5 per cent less at 870,000 tonnes, although that includes an 8 per cent rise in production of the Verna variety alongside a 10 per cent dip for Fino.
Elsewhere, the Spanish grapefruit crop is anticipated to be up by 5.5 per cent at 56,000 tonnes.
According to Freshfel's Philippe Binard, better sizing in commercial terms could still be affected by forecast rainfall and a slightly earlier start for all citrus products except lemons.
In Turkey, meanwhile, overall citrus output is set to increase by 22 per cent to 3.4m tonnes, with notabl rises for oranges, lemons and grapefruit.
Other highlights of the northern hemisphere forecasts include:
- An 18 per cent increase in Italian orange production
- Lower orange production in Greece, at an estimated 500,000-550,000 tonnes
- Israeli citrus is set to recover after low crop last season
- Morocco's production will be up by 6 per cent to 1.8m tonnes
- Florida expects a 'slightly large' crop despite citrus acreage being down again by 2.3 per cent