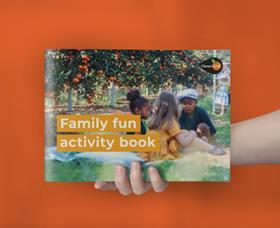 Remote working and meetings are not the only differences in the new, Cocid-19 environment we are becoming used to.

Leading brands are increasingly introducing innovative ideas to engage with families around the world, who have their movement restricted because of the pandemic.

One good example is mandarin brand ClemenGold, which is assisting families under lockdown in passing the time in a constructive manner.
ClemenGold has launched an e-booklet to help families pass the time in a fun but constructive manner.
"Considering such emerging trends as home cooking, self-care, the need to balance working from home with entertaining the kids, and a strong need for healthy eating and living, this handy resource brings relief in many ways," the ClemenGold outlined.
'Keeping the little ones creatively busy in a fun and constructive and educational way is always a challenge, not only in current times, but especially now with so many parents still working from home,' noted Marius du Plessis of the branding and marketing team in South Africa.
The free-to-download e-booklet is dividedinto different sections with recipes to encourage spending time in the kitchen, to brain boosting and colouring activities for the kids, and even inspiring food art projects.]
The company noted that in-store tastings, which have provided the brand with valuable shopper interaction in the past, have been paused during the global pandemic.
'We miss this engagement with our customers and decided to find alternatives to still be part of their lives – even when they shop online."

In many of the retail chains where ClemenGold mandarins are currently available, shoppers are able to scan a QR code taking them directly to the resource. The link is also shared via the brand's active social media platforms.
"As a brand we are constantly developing new ways of connecting with our customers,' Du Plessis added.