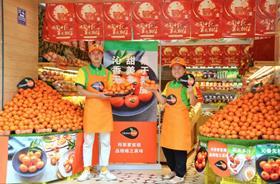 Newly appointed ClemenGold marketing manager Adéle Ackermann has explained how its brand position in China, as elsewhere in the world, is being established through strategy and investment.
"The brand has become a trendsetter in terms of delivering on the promise of offering a golden selection of quality fruit and excellence in marketing innovation,' Ackermann said. 'In China a group of hand-selected import, wholesale and retail partners embrace the branded approach and execute pre-determined supply programmes on their various platforms, incorporating their own highly innovative marketing and sales expertise.
"Significant growth has been experienced in terms of online sales as China is ahead of this global curve with great uptake from consumers,' she continued. "The global demand for citrus remains high and our fruit most often exceeds the consumer's expectation when it comes to flavour and convenience of eating."
ClemenGold is following a single-brand strategy with its marketing approach, Ackermann confirmed.
'While ClemenGold remains our premium mandarin brand, we produce, pack and market within a range of brands for mandarins, also including Sweet C, ClemenOrange and HoneyGold. We do this to match available fruit to a variety of markets and the needs of consumers in terms of aspects such as fruit size, tasting preference, etc. This is an important part of the success of our approach worldwide. T
The position of ClemenGold in China has been developed over a five-year period, she outlined.
'Initially we had to accept market related commercial values as the Nadorcott variety of soft citrus historically found less favour in China compared to other markets as trade, transport and market challenges created the impression that older, firm varieties were superior in quality,' Ackermann said. 'In the recent years, this has changed but China still has high requirements in terms of fruit quality.
"Favourable feedback from our established retail partners focuses on its exceptional eating quality with that distinctive mandarin taste which refers to good flavour balance, its virtually seedlessness and easy to peel nature, the consistency of quality and the strong and established brand that backs the fruit,' She noted. 'They also commend the long supply window and have indicated that the fruit, presented in specially designed gift packaging, makes the ideal gifts for their Moon Festival.'
ClemenGold said that its approach is to provide participating growers with secure supply programmes with global clients and secure long term shelf space and reliability of supply.
"We take a long-term view in this regard. When done right, ClemenGold is commercialised at premium value befitting to the special selection and marketing effort, with huge benefits to everyone involved in the supply chain."

Ackermann added that, most importantly, consumers worldwide had a guaranteed promise of quality, taste, backed by innovative marketing campaigns.
"With everything aligned we achieve category and consumption growth. In countries that respond well to branding, like China, premiums above competitive fruit are good, whereas in other markets less so."