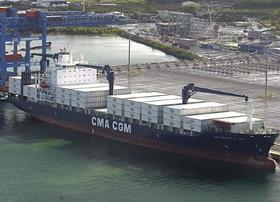 French container shipping group CMA CGM has announced some fine-tuning to some of its services following a reappraisal of its container routes.
Altered services include the Liberty Bridge Loop, which adds Norfolk, Virginia to Loop One, adds Jacksonville, Florida as a direct call and confirms New York as the last port before transiting the Atlantic. These changes are due to take effect from 1 December.
The St Laurent line is also due to be changed on 26 December. The route, which links North Europe and Canada, will go from Bremerhaven, Rotterdam, Antwerp, Le Havre, Montreal and back to Bremerhaven, thus increasing the coverage.
Msieu Jean Philippe Thenoz, CMA CGM's vice president North American Lines, commented: "The reorganisation of these two key services strengthens our transatlantic market coverage and enhances the quality and the reliability of our services for our customers."