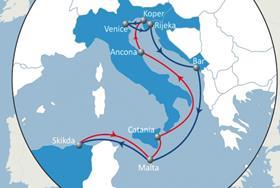 Leadoing shipping and logistics group CMA CGM has announced the launch of its new short sea service, ADRINAF, which it says is the first direct service between the Adriatic Sea and Algeria
According to CMA CGM, the weekly service opens up new development opportunities for its customers located in central and eastern Europe thanks to rail and road intermodal solutions, mainly via Koper in Slovenia.
The service also allows connections to the rest of the world via its port hub in Malta, thus reaffirming the group's local commitment and its desire to develop it.
With the ADRINAF service, the group reinforces its intra-Europe and Mediterranean "CMA GM short sea" offer, which is comprised of 33 services operating 63 vessels and making over 300 calls per week.
The Group also confirms its strategy aimed at densifying its regional network.