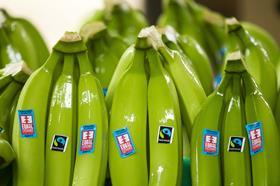 Fairtrade America has revealed the key highlights from its biennial GlobeScan Fairtrade Consumer Insights report, with study results pointing to trust and overall favourable perceptions of Fairtrade certified brands and products, as well as increased recognition of the Fairtrade seal.
Conducted among 2,000 US consumers via an online survey, the new GlobeScan research included several notable findings, such as the fact that 76 per cent of consumers would view a brand they already buy more favourably if it carried a fairtrade label, and that half of American consumers trust the Fairtrade label.
The study also found that 64 per cent of customers would recommend Fairtrade products to a friend or colleague, price is becoming a less dominant barrier to purchase, and Fairtrade preference levels are highest for vegetables.
According to Fairtrade America, recent third-party consumer purchasing data suggests millennial shoppers are key to driving growth and demand for Fairtrade certified goods.
Millennial consumers are outspending other generations when it comes to food and beverages, demonstrating a willingness to pay more for items that align with their values. According to IRI, food and beverage sales among millennials were 21.5 per cent higher in March 2019 compared to March 2018.
In a competitive landscape where brand loyalty is essential for survival, millennials value transparency – including fair trade and ethical labour practices, the organisation noted.
"Beyond taste, quality and price, food and beverage brands can increasingly differentiate themselves by appealing to consumers' ethical concerns, including the very issues that Fairtrade America works to improve," said Bryan Lew, chief operating officer, Fairtrade America. "This data helps us assess our impact and evolve our approach to influencing businesses to certify and shoppers to make ethical purchasing decisions. Ultimately, Fairtrade certified products help secure decent working conditions, fair prices, and better terms of trade that empower small farmers in developing countries to improve their social, environmental and economic stability.'