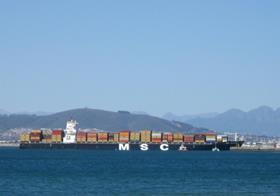 Exporters and logistics operators in South Africa's Western Cape are eagerly awaiting the arrival of another shipload of empty containers to boost their export programmes.
Following the previous arrival of empty containers delivered by Maersk, the MSC container vessel VITA is expected in Cape Town this week to deliver containers destined for exporters in the Western Cape.
In the Cape region the last of the apples are being harvested this week, while the Western Cape citrus industry is at the start of its export programme.
In the north of the country the citrus season is fast gaining momentum and, sources said, against the prospects of a record export crop, they were keen not to fall behind in shipments.
Another reason is the fact that internationally there is now good demand for citrus because of the focus of increased intake to build up immunity and therefore help cope with the Covid-19 virus threat.
The need to take advantage of a very favourable exchange rate is also driving increased interest in the export business.
Gerhard van Heerden, chief executive of LINK, a shipping and logistics operator of a number of leading export companies, said that the arrival of the MSC VITA was keenly awaited.
"It is expected to make a huge difference in the much needed demand for empty containers,' he confirmed.
The pressure on supply of containers has already resulted in the joint-loading of one conventional reefer vessel destined for Europe between apple and citrus producers.
The vessel first loaded in Cape Town, then sailed to Durban to load citrus, before returning around the Cape of Good Hope destined for Europe.