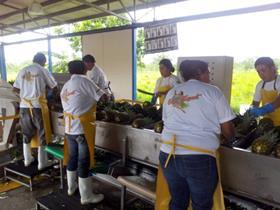 Netherlands-headquartered multi-national fresh produce distributor Cool Fresh International has inked a deal with Costa Rican pineapple producer-packer Tropicales del Valle.
Under the deal struck in May, Tropicales will handle all pineapple sourcing, packing and exports on behalf of Cool Fresh. But together the two firms will work towards strengthening global market penetration of other fresh produce lines from Costa Rica, Cool Fresh said in a press release.
New from July, Cool Fresh will launch Costa Rican Rainforest Alliance-certified pineapples, as well as chayotte, plantains, yuca and eddoe from the country to selected clients.
Corporate social responsibility is another area identified for bilateral collaboration.
" Together with Tropicales del Valle we now focus on improving the living conditions of the local population," said Cool Fresh's Hugo Vermeulen. "We have now established a long-term improvement project for the local elementary school near the farms with whom we cooperate. Finally, our CSR department putting together a master plan, which will ensure that the children of the local community have access to a variety of new social activities."