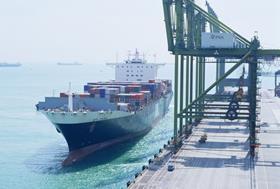 The coronavirus is taking a heavy toll on the global shipping industry, with rates falling to record lows.
Analysts say the collapse in demand for cargo shipments to and from China will be felt for many months to come.
A survey by Beijing-based think tank the Shanghai International Shipping Institute shows that capacity utilisation at the main Chinese ports had fallen by 20-50 per cent, while more than one-third of ports said storage facilities were more than 90 per cent full.
A report by Danish maritime data specialist Sea-Intelligence estimates that the outbreak is costing container shipping lines US$350m a week in lost volumes. It claims more than 350,000 containers have been removed from the international trade network since the start of the crisis last month.
APL issued a statement this week warning customers that the situation was causing container bottlenecks, with carriers warning of surcharges and cargo diversions.
"Terminal operations and pick-up of inbound containers in China has been slow," the company said.
"Consequently, most reefer plugs at the yards of all container terminals in Shanghai and Tianjin are already occupied.
Maersk also warned that it was being forced to divert cargo from Shanghai and Xingang as port capacity had reached critical levels and no spare reefer plugs were available.
The company advised customers with time-sensitive cargo such as fruit and vegetables to ship to other, less congested Chinese ports or find other markets.