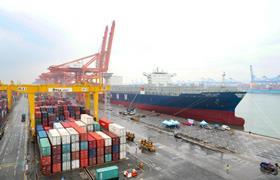 The closure of businesses across the US and Europe in a bid to slow the spreading coronavirus disease 2019 (Covid-19) has removed a critical component in the recovery of container shipping demand, with no certainty when consumer spending will return, reports JOC.com.
This uncertainty is troubling container carriers, JOC.com says. A.P. Møller-Maersk on Friday (20 March) withdrew its financial guidance for 2020, while Hapag-Lloyd is expecting a negative impact on earnings for at least the first half of the year, and OOCL warns of a possible medium- to long-term decline in demand.
JOC.com says the real-time impact of the aggressive social distancing measures is being measured by software solution provider Purple. Using WiFi analytics, the data shows that in Europe, the visits to retail stores fell 41 per cent in the past week compared with the previous week. In North America, that foot traffic declined 18 per cent week-on-week, while restaurant visits tumbled more than 60 per cent in the past week as more stringent stay-at-home measures were imposed across the US.
Deutsche Bank is now expecting a severe global recession in the first half of 2020, the article says. The bank expects demand in China to have declined 32 per cent in the first quarter, with second quarter demand in the eurozone to fall 24 per cent, and in the US by 13 per cent.
During the JOC webcast, TPM20: What We Missed — The Economic, Trade and Container Shipping Outlook, IHS Markit chief economist Nariman Behravesh said Japan was already in a recession, the US was set to follow suit in the second quarter, and a European downturn is imminent.
"The virus itself isn't killing the economy, but the response to it is sending us into recession," he said.
The deteriorating economic environment is darkening the outlook for container shipping, says JOC.com. Sea-Intelligence Maritime Consulting wrote in its latest Sunday Spotlight that its assessment of a 10 per cent reduction in container volumes in 2020 — which would reduce global volume by 17 million TEU — was even more likely following the widespread measures taken in the past week to shut businesses and curtail the movement of people.
Businesses and consumers have been forced to curb spending within a very short time window, and Sea-Intelligence said there was little clarity over when that spending would return.
"How quickly inventories can be reduced is an open question, in an environment where consumers are not only experiencing curfews and lockdowns, but are also facing substantial uncertainty in relation to their job situation going forward," Sea-Intelligence noted.
"With the rapid shut-down, most businesses globally are now all facing the same key priority — cash flow. Right now, it matters less whether your decisions will make you more or less profitable," Sea-Intelligence said. "It matters whether you have enough cash to live and fight another day. And this makes the impact more predictable — cash preservation priorities lead to the temporary shut-down of any activity not directly generating cash, curtailment of activities consuming cash, and decisions aimed at reducing capital bound in inventories. And this is why the shipping industry is in for an extremely challenging period."