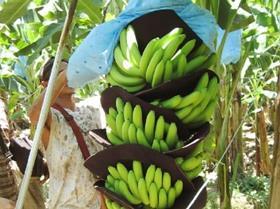 Costa Rica and the European Union are reportedly close to finalising the terms of an agreement of association, under which Europe is said to have offered to lower its controversial import tariff for the Latin American country's bananas.

The two sides are currently meeting in Brussels with the aim of reaching a deal over the terms of the agreement, which would cover sugar and coffee as well as bananas, during a further round of talks that are scheduled to start of 6 July.

One of the key issues to be resolved during the forthcoming round of talks will be the European Union's banana import tariff for Latin American products, which currently favours imports from ACP (African, Caribbean and Pacific) countries.

European negotiators have reportedly offered to reduce the tariff for Costa Rican banana imports from €176 per tonne to €95 per tonnes within 10 years.

However, according to Costa Rican daily La Nación, Costa Rica is said to be unwilling to accept the proposal, arguing that a similar reduction had already been offered to the World Trade Organisation (WTO).

Costa Rica's chief negotiator, Roberto Echandi, told the publication that there remained some "very hard obstacles" to resolve in the forthcoming round of talks, but he said that the country would sign the deal once a "balanced and advantageous" deal was reached.