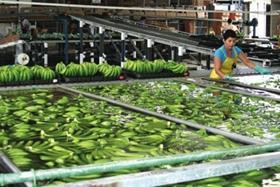 Costa Rica's banana sector is forecasting a light increase in overall volumes for its 2011 campaign to an estimated 105m boxes, which it believes should mark a modest recovery from last year's rain-affected season.
Speaking to national daily Diario Extra, Jorge Sauma, president of the country's National Banana Corporation (Corbana), said that the industry expected to achieve a small rise in volumes during the year, as plantations recover from 2010's adverse weather conditions.

Mr Sauma said that the Costa Rican banana sector, which has some 45,595ha of plantations, produced a total of 97m boxes of the fruit in 2010, noting that the harvest was affected by heavy rains during the year.

Costa Rica, which last week finalised new national phytosanitary regulations governing production and pest controls, is the world's second-largest banana exporter after Ecuador.