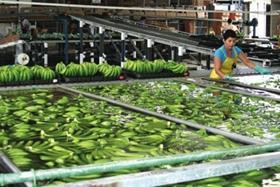 Costa Rica's fruit exports to Europe during the first six months of 2010 increased by 13.2 per cent compared with the same period last year, as a result becoming the Central American country's second most important market after the US.
According to data from Costa Rica's institute of promotion in external markets, Procomer, the value of the country's exports to Europe – including pineapples, bananas and melons – during the first half of the year totaled US$907.3m (€694.5m).
Procomer's Francisco Gamboa told Costa Rican daily El Financiero that fruit accounted for the majority of the nation's exports to the European Union, explaining that growers had benefited from higher production volumes thanks to favourable climatic conditions.
During the first six months of the year, the US received 40.6 per cent of Costa Rica's exports, followed by Europe with 18.5 per cent, Asia with 14.5 per cent and Central America with 13.9 per cent.