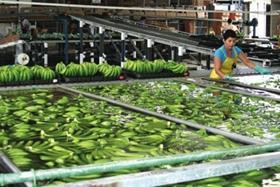 Costa Rica's banana overall export volumes for 2009 are expected to fall by as much as 16 per cent compared with last year as a consequence of heavy rains and fluctuating temperatures in key production regions.
The value of the country's banana exports is reported to have dropped to US$429m (€292m) during the first nine months of this year, which is equivalent to a 15 per cent decrease from the same period of 2008, Costa Rican export agency Procomer told AP.
During the same stage of 2008, the value of bananas shipped to external markets reached US$505.5m (€344.6m).
According to Luis Umaña, vice-president of Costa Rica's Chamber of Independent Banana Producers, the fall in exports has been provoked by climatological problems, which delivered a blow to banana production during the second semester of last year.
Mr Umaña told the news agency the development of this year's crop had been affected by heavy rains in the country's Caribbean zone during the semester, followed by unstable temperatures that resulted in intense cold spells and prolonged drought in many plantations.
He added that in spite of an expected recovery in volumes during the final months of this year, overall volumes were expected to be between 13 per cent and 16 per cent lower than during 2008.
The European Union is the principal market for Costa Rica's banana shipments, receiving around half of total exports, followed by the US, which receives an estimated 44 per cent.