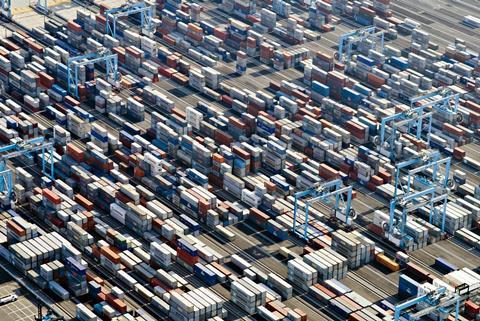 New rules governing how the contents of a shipping container are declared could have a major impact on the transportation of fresh fruit across the world's oceans when they are introduced on 1 July.
The so-called verified gross mass (VGM) requirement is being added to the International Convention for the Safety of Life at Sea, or Solas, an international treaty adopted in the wake of the Titanic's disaster and generally regarded as the most important when it comes to the safety of merchant ships.
Whereas in the past exporters have only been required to estimate the weight of the goods they hand over to shipping lines or third-party handlers, regulators are trying to crack down on improperly loaded containers which they say can lead to stacks collapsing at sea and potentially catastrophic damage to vessels.
As a result of the new rules, every shipper will be responsible for verifying the gross mass of every container, be it on a containership or a specialised reefer vessel. If one is presented without a VGM, the vessel will – or should – refuse to load it, or be in breach of Solas.
No surprise then that carriers are working to upgrade their electronic communications with shippers so that weight information can be transmitted more easily. Some are offering solutions, including on-demand weighing services and equipment, while others have not.
Where such infrastructure is unavailable, some shippers have switched their business away from containers and on to specialised reefers, which find themselves with a new advantage: break-bulk cargo loaded under deck is not subject to the same gross mass restrictions.
A new wave of costs
Thus far, no single solution has addressed shippers' concerns about how much they will pay for the new procedures. Investment bankers Cowen & Co recently reported that intermediaries like freight forwarders and 3PL providers stand to benefit from the new rule, as shippers will likely call on them to help manage the changes.
The amendment also calls into question the value of some cargo loaded in high-cube reefer containers, the introduction of which was a key factor in the switch away from conventional shipping to containerisation of perishable cargo.
Although the footprint is the same as a standard 40ft reefer, at 2,684 cubic feet and with 300mm more height, the high-cube has 13.5 per cent more capacity, loaded at no extra cost. The deck height of the specialised reefer is 2.2m, which corresponds directly with the height of a standard reefer container.
So, for anyone shipping products like table grapes and kiwifruit, which 'cube out' before they 'gross out', the high-cube reefer delivers a more cost efficient chain. However, for shippers of bananas, pineapples and hard citrus – oranges, grapefruit – as well as frozen meat and fish, which 'gross out' before they 'cube out', there is little to be gained. Because of the weight restrictions, the difference in capacity remains unused and the high-cube loses its competitive advantage.
The new rule means those shippers who currently flaunt the rules and deliberately overload containers in order to lower the unit cost of transportation will find it more difficult to do so after 1 July, with the effect that some cargo may be driven back under deck. That's assuming, of course, that VGM is rigorously enforced.