More than 600 delegates from 20 countries will meet in Miami to discuss the latest challenges and opportunities facing the sector
New opportunities and challenges facing the global banana industry will come under the spotlight at the 9th International Banana Congress, which takes place in Miami next month.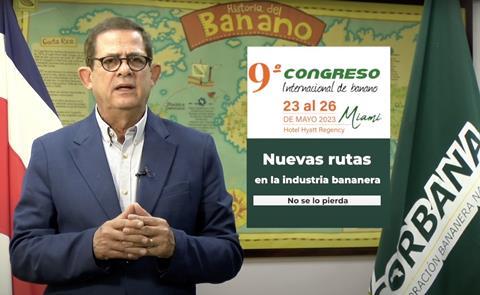 More than 600 delegates from 20 countries will gather on 23-26 May at the Miami Hyatt Regency Hotel for the event, organised by Costa Rica's National Banana Corporation (Corbana).
Topics up for discussion in the include ongoing challenges posed by fusarium wilt TR4 and Black Sigatoka, rising production costs, sustainability, new EU import rules for bananas, as well as the latest developments in logistics and emerging market trends.
"We are very excited to return again with the International Banana Congress. At Corbana we are preparing an event in which the entire banana industry will want to participate and not miss out on because they will be able to further nurture their knowledge about the latest worldwide trends and improve the positioning of their products in the export market," said Jorge Sauma, general manager at Corbana.
As well as participating in talks, forums and business meetings, attendees will also have access to a trade exhibition where companies will showcase the most innovative products and services for the sector.