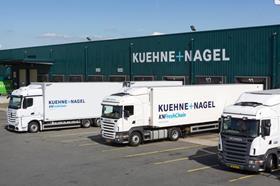 Kuehne & Nagel has posted a sharp fall sales in the first quarter of 2020 due to the coronavirus pandemic.
The Swiss logistics firm said net turnover, gross profit and earnings were significantly below last year's levels, while currency fluctuations had also had a significant negative impact on the business.
First-quarter earnings fell 23.2 per cent to CHF139m from CHF181m in the year-earlier period. EBIT declined 24 per cent from last year to CHF184m and operational profit or EBITDA fell 9.6 per cent to CHF378m.
Net turnover dropped 6.2 per cent to CHF4.91bn CHF5.24bn a year ago.
CEO Detlef Trefzger said although production and trade volumes had weakened significantly, the company had maintained its operational performance, closely managed a number of specialty businesses and won new customers.
In the case of basic commodities and pharmaceuticals, transport volumes were maintained at a respectable level, he noted.
"Our company will face major challenges in the coming months, but is well positioned in view of its customer proximity, agility and digital offerings. A high level of liquidity characterises the company's solid financial strength," Trefzger said.