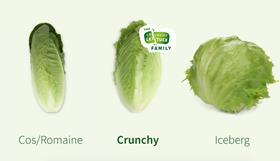 Rijk Zwaan has held up its Crunchy Lettuce variety as an example of how it is bringing innovation to the category.
Crunchy lettuce combines the sweet, elongated leaves of cos and the crunch and juiciness of iceberg, which 'offers retailers a great opportunity to innovate their lettuce category and add value for consumers', the seed company noted.
The range, which comes in large, midi and mini sizes, is also aligned with the growing consumer demand for less plastic packaging, Rijk Zwaan pointed out.
'The larger-sized Crunchy Lettuces can be displayed on retail shelves packaging-free, without compromising on the shelf life,' the group said. 'This enables retailers to reduce their use of plastic packaging compared with regular cos lettuce types.'
Convenience is also addressed, with the mini Crunchy Lettuce allowing retailers to introduce the 'snack lettuce' concept to consumers – individual leaves can be filled and eaten as a healthy snack.
'Since the snack-sized Crunchy Lettuce can be grown hydroponically, it also addresses the increasing demand for clean products on supermarket shelves,' Rijk Zwaan outlined.
'Although we have a very versatile range of appealing lettuce concepts that are suitable for hydroponic production (such as Salatrio, Butter and Batavia), up until now we lacked a lettuce type with a juicy and crunchy bite. Crunchy Lettuce has filled this gap. Thanks to this concept, we can now meet the rising demand from retailers for locally grown, clean and healthy lettuce all year round.'