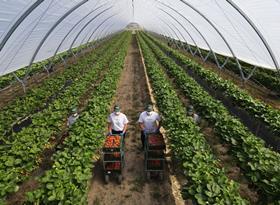 Daifressh Group continues to expand its main berry crops in Poland and Morocco with the aim of becoming the leading supplier in Central Europe.
The Sagunto, Valencia-based multinational company, which is achieving 20 per cent annual growth in its berry sales, operates a global supply strategy to guarantee products with consistent quality to its customers throughout the year.
Production director Ana Claramunt commented: "We have a great technical team of experts and an excellent range of varieties that we grow on our own farms, complemented by long-term partnership with what we call DaiGrowers located in different geographical areas worldwide, thus covering 52 weeks of the year.
"We also have infrastructures and a solid logistics network both at origin and destination, allowing us to guarantee fresh and high-quality products from the moment of harvest until they reach our customers."
Last season, the company's facilities in Poland had a total of 110ha of hydroponic systems and integrated production divided between raspberries, blueberries and strawberries.
For this season which starts in a few months, 11 more hectares of raspberries and 4ha of blueberries will be available and over the next years the company plans to expand by another 280ha – 120ha of raspberries and 160ha of blueberries. It will also build a new cutting-edge warehouse to handle the increased production.
Regarding production in Morocco, which is located in the Agadir area, the company currently has 80ha of raspberries, which will be expanded over the next years to 140ha, divided between 105ha of blueberries and 35ha of raspberries.
As a global grower and supplier of fresh produce, one of its core values is a commitment to sustainability. For this reason, it invests in cutting-edge agrotechnology, such as table-top hydroponic cultivation under tunnel.
"This system offers multiple advantages, both from an agronomic and labour point of view. It makes it easier for our workers to harvest strawberries and raspberries, and at the production level, it offers significant savings in water and nutrient consumption for the plants," explains Claramunt.
"Last season, 93 per cent of the fruit was first class, which far exceeds the figures for other cultivation methods, thus reducing wastage. We are also committed to integrated production for biological pest control, thus minimizing the use of chemical products."
Dariusz Jakubowski, CEO of Daifressh, comments: "We are convinced that this project has no limits. For several years, we have been seeing an increasing demand for our fruit, which has resulted in the opening of new markets and customers who are showing confidence in us and in our long-term project.
"Therefore, we plan to continue investing in our own production, creating agreements with more DaiGrowers worldwide and planting new varieties that increase production efficiency and shelf-life. This all aims to allow our customers to provide consumers with quality berries at a competitive price."