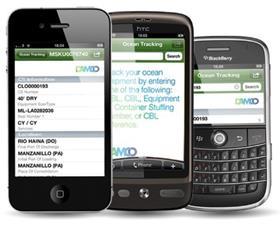 Freight forwarding and supply chain management company Damco has released a new smartphone application aimed at providing its customers with a fast and simple way to check the status of logistic services being delivered to them by the company.
According to the group, Damco is the first logistic provider in the industry to offer its customers an app which is available on all the major mobile platforms – iPhone, iPad, Android and Blackberry.
Unveiling the app, it said the launch was part of an overall effort to prepare for a future where more business processes will need to be efficiently supported on smartphones and tablets.
'The proliferation of mobile devices is making it economical and scalable to reach customers with apps,' said Mark Scotland, Damco's chief information officer. 'During recent years tremendous advances have been made, not only in the capabilities of the devices, but also in their ease of use.
'As a result, the screens and functionality of the devices are more than sufficient to give customers mobile access to the applications they access via our standard platforms today.'
According to market data made public by IT research company Gartner, 428m mobile
communication devices were sold in the first three months of 2011, representing a 19 per cent increase year-on-year.
Smartphone sales continue to outpace the rest of the market and accounted for 23.6 per cent of overall sales during the same period, up 85 per cent on the first quarter of 2010.
Damco's tracking app will apparently make it possible to track shipments quickly and at all times.
Initially, it will offer tracking of ocean freight shipments, with plans to expand
the functionality with airfreight tracking and mobile access to a number of key customer-facing applications that are currently accessed by customers using the existing myDamco online portal.