The man dubbed 'Dr Food' will be one of the keynote speakers at the International Table Grape Symposium in Cape Town
Table grape growers will receive advice from keynote speakers on how to progress amid tough times for consumers and global economies, at this year's 10th International Table Grape Symposium, which will be held in South Africa in late November.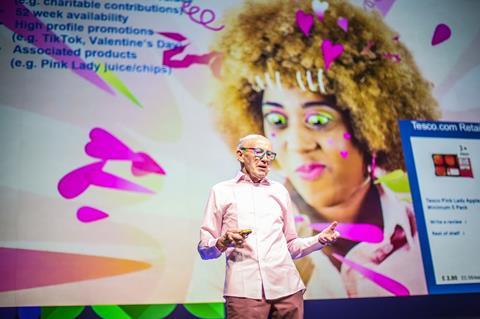 One of these speakers is David Hughes, emeritus professor of food marketing at Imperial College London and visiting professor at Royal Agricultural University in the UK. Also known as 'Dr Food', Hughes has over the past two decades brought his specialist views to the fresh produce sector on consumer and retail trends.
Offering a glimpse of what symposium attendees can expect, Hughes paints a picture of an environment which has changed radically for grape growers in recent years.
"Since Covid-19 emerged four years ago, consumers and their countries' economies have been through acutely turbulent times, exacerbated by the Russian invasion and tragic war in Ukraine and compounded by increasingly extreme climate events which is throwing farming production cycles into chaos," he explains
Income-stretched consumers have changed their shopping behaviours, Hughes notes, and in many markets fruit and vegetable sales are under pressure, especially across Europe and in the US. "Yet, there is ample evidence of continued strong demand for premium produce," he says.
There is also good news. "During turbulence, however, consumers show hearty appetites for food products that are tasty, convenient, snackable, affordable, healthy, liked by their children, and fun when they are eating it. Table grapes tick most of these boxes, so onwards and upwards."
Hughes will share much detailed information at the Symposium, including the fact that shoppers, often unreasonably, perceive that fruit is "kind of expensive" – yet they are willing routinely to spend more on three or four coffees per week than they are on fresh fruit.
"Survey results clearly show that, through the past four years, diets of lower income households have suffered with a concomitant impact on their health – obesity problems have worsened in many countries, not least in lower income families," he continues. "Governments will seek to 'improve the national diet' through greater regulation of, for example, high sugar foods. This may create challenges for table grapes, with nutri- and enviro-scores probably being introduced on food products by the end of the decade."
The symposium organisers say similar powerful keynote speeches will bring all issues affecting the world of table grapes to the forefront and lead to lively discussions during panel sessions.
"The symposium undoubtedly will lead to discussions that is uppermost in the minds of the world's table grape growers," says Schalk Reynolds, chairperson of the 10 ITGS organising committee.
The 10th International Table Grape Symposium will be jointly hosted by the South African Society for Enology and Viticulture (SASEV) and the South African Table Grape Industry (SATI), in the country's Western Cape region from 26 November to 1 December.