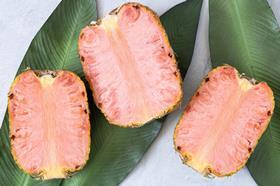 Del Monte Fresh Produce NA has officially launched its Pinkglowpineapple, a pink-fleshed pineapple grown in limited volumes in Costa Rica.
The pineapple will only be available online in the US and the leading marketer-distributor will send the fruit direct-to-consumers for consumption.
Pablo Rivero, vice president marketing North America of Fresh Del Monte said the unique pineapples had been indevelopment since 2005 and take up to 24 months to produce.
"As a leading supplier of fresh pineapples throughout the world, Fresh Del Monte is committed to continuing to invest in our pineapple research and development program to meet the ever-changing needs of our consumers," said Rivero.
"The Pinkglow pineapple is a product we are incredibly proud of – not only for its beautiful colour and delicious taste, but also because of the care that went into growing and releasing it, as well as the sustainable method we've enacted to produce these new pink pineapples."
As part of this sustainable commitment the crown of each Pinkglow pineapple is removed before shipping and replanted to increase the volume of crops and reduce waste.