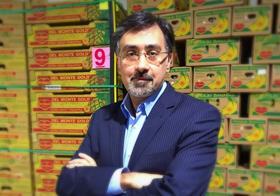 Del Monte last month announced the opening of a fresh-cut facility in Kuwait, according to Tunis Daily News, as the company continues its expansion in the Middle East and North Africa (MENA) region.
"The newly launched fresh-cut facility is yet another milestone achieved by Del Monte under its expansion strategy in the MENA markets," said Mohammed Abbas, Del Monte's VP for APMENA region. "The new launch will foster our position as a leading provider of fresh fruit and vegetables that boost wellness and healthier lifestyle of the people."
Abbas said that the success achieved by the company since its debut in the UAE in 2007 had been down to its more than 125 year-old passion to provide healthy nutrition and products.
"Our new fresh-cut facility is the chosen fresh produce supplier of large companies such as McDonald's in Kuwait," he said, "which is a testimony of the quality of the products and services we provide."
The new state-of-the-art facility offers just-in-time delivery capabilities including coldstorage facilities, fresh-cut fruit and vegetable operations, and an ultra-fresh juice manufacturing operation.
According to the company, the facility reflects Del Monte's core principles of product innovation, quality, freshness and reliability.
"We are glad for this recent development, and are determined to push forward our reach in Kuwait and the wider MENA region in order to continue providing healthy and fresh food to people of the region, and be an integral part of their healthy lifestyle," said Abbas.
The ceremony in Kuwait was attended by Mohammad Abu-Ghazaleh, chairman and CEO, Fresh Del Monte Produce; Larry Memmott, deputy chief of mission at US Embassy Kuwait; Shari Stout, senior commercial officer, US Embassy Kuwait; Saqr Abu-Shattal, ambassador of Jordan to Kuwait; Ayman Al-Basha, commercial division manager/fresh foods, The Sultan Center; Makram Malaeb, corporate commercial director at The Sultan Center; Muntaser Al-Qadah, general manager, McDonald's Kuwait; Charbel BuMusa, procurements and quality manger, McDonald's Kuwait; Ian Parkes, deputy chief of production unit, foods and restaurants division, Alshaya Group; Mohammed Abbas, VP for APMENA region, Del Monte; and Akram Kamal, general manager, Del Monte Kuwait.