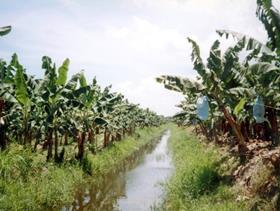 Del Monte has won the bidding to take over the reins at Panamanian banana organisation Coosemupar (the Panamanian Cooperative of banana producers in Puerto Armuelles), according to La Estrella.
The US multinational has reached an agreement with the government for a lease on the group's 3,000ha of banana plantations in Chiriqui, the publication reported, at a cost of around US$54m.
Del Monte beat off competition from three rival bidders to land the deal, including two European foundations and one headed up by Anel 'Bobo' Flores.
Executives from the US group have been asked to meet with the cooperative's directors at some point during the next week to outline their vision for the immediate future of the plantations.
Banana production at Coosemupar's 12 plantations (around 3,000ha) washalted near the tail-end of 2008, leading to losses of US$20m on top of the US$30mdebt already accrued by the cooperative, which had been plagued by financial and plant health issues.
Since that time, production in the region has fallen 91.3 per cent, hitting the country's overall export industry hard. Just 2.3m boxes were exported in January and February this year, a year-on-year drop of 34.8 per cent, according to the National Banana Office.
Meanwhile, the Panama government last week approved a loan of US$670,000 to cover payroll expenses for over 2,500 Coosemupar workers.