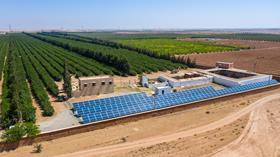 Moroccan citrus and tomato grower group Delassus – a key supplier to the UK – is investing in solar energy to power its drip irrigation systems as part of a wider national move to reduce the North African kingdom's dependence on coal and use cleaner energy.
The producer last year installed enough solar panels to irrigate 70ha of its easy peeler Nadorcott groves and is this year investing in an additional photovoltaic system to 'power' production of 450ha of its Duroc snacking tomatoes. By August, Delassus expects to generate enough solar energy to meet the needs of 40ha of tomato production.
Delassus says it expects to recover the cost of its solar energy systems within four to five years. Its lower electricity bills also make the group less vulnerable rising labour and fertiliser costs.
"Since the installation of the Nadorcott solar panel system last May 2021, our electricity bill went down by 44 per cent," says Delassus' citrus and grape production director Mohamed Nafide.
"Solar power is the key to Morocco's clean energy future. Every day, the sun gives off far more energy than is needed to power whole farms."