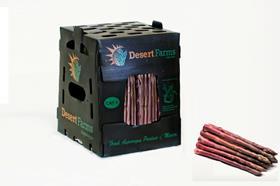 Mexican asparagus producer Desert Farms has launched a new line of purple asparagus following successful trials last year.
The move reflects the Sonora-based company's ongoing diversification strategy, which last year saw the launch of an organic asparagus line.
"Purple asparagus is known for its sweet taste due to its high sugar content. It has a sweet and mild taste and they turn slightly green when cooking," said CEO Bram Hulshoff, adding that it is important not to overcook the variety in order to preserve its colour.
With the 2019 season already underway, Desert Farm also announced that it would be supplying Fairtrade-certified green asparagus to its customers for the first time.
"Our strength is our personnel, and the company has always focused on doing the right thing," said Hulshoff.
"We already had Sedex, ESR, Grasp and other social responsibility accreditation, so Fairtrade was the logical next step. Actually, it didn't require too many changes to our processes, although there was some paperwork involved."
Hulshoff said the season had got off to slow start, with the quality looking excellent. "This year we expect the crop to peak more towards the middle of the season, with gradual increments in production over the next few weeks."
Desert Farms exports around two-thirds of its crop to the US and Canada, with the rest being shipped to markets in Europe and Asia.