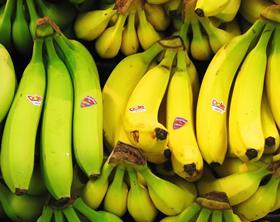 Dole has resumed operations at its Honduran subsidiary, Standard Fruit Company, following last week's attack on a convoy of its trucks after receiving assurances from President Juan Orlando Hernández that security measures would be tightened amid growing civil unrest.
The company also issued a statement to reassure workers that it remained committed to the country after it was reported in some newspapers that it planned to move its banana operation from Honduras to Guatemala and Mexico.
Around 30 of the multinational's trucks were burned and looted by protestors last weekend, prompting the company to announce that it would be temporarily suspending some work contracts "until there exists the guarantees for normal functioning of our activities".
According to a report in Diario La Prensa, the Honduran president held a private meeting with executives of the company on 5 June at which he pledged to increase security in the Colón region where the attacks had taken place and bring those responsible to justice.
José Alfredo Jiménez, president of the Sutrasfco union, told that paper that Dole's six companies located in the Olanchito zone and its farms in Coyoles Central, Yoro and the surrounding area were now working at full capacity.
Jiménez said the cessation of violence provided a reprieve for the 7,000 workers on the farms, which includes 2,000 permanent employees.
On Tuesday, Dole issued a statement saying: "Dole is extremely concerned with the political and social unrest Honduras is facing and the impact its having on our equipment, operations, and those in our supply chain in country," the multinational said.
"Despite business disruptions, the company remains committed to Honduras, our workers and our banana and pineappleoperations that exist there and hopes for a speedy and peaceful resolution.We hope to beable toresumedaily operations as soon as we are resolvedthatour employees and assets are secured and protected."