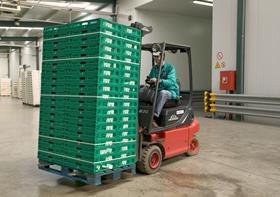 Dole Fresh Fruit Company, a subsidiary of Dole Food Company, has announced the signing of an agreement for pallet pooling services with pallet and container solution specialist Chep.
As a result, Dole is now transporting bananas on Chep pallets from facilities in Costa Rica, Guatemala and Honduras to supermarkets, wholesale clubs and distributors in the US and Canada, having used Chep pallets for its US vegetable business since 2006.
The complete range of Chep pallets that are being used by Dole are in full compliance with ISPM-15 phytosanitary regulations.
'Chep is delighted to be expanding activities with Dole, and we look forward to advancing the relationship with new and better solutions for their product handling challenges,' said Karen Hempel, Chep US senior vice-president of sales and marketing. 'We continue to be committed to providing Dole and all of our customers with the highest levels of service and product quality.'