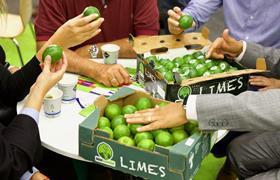 Don Limón has launched a retail partnership programme to offer greater flexibility as the trend towards direct sourcing intensifies.
The Hamburg-based company is inviting global retail buyers of table grapes and citrus to build long-term, tailored partnerships with its sourcing and distribution offices worldwide for "seamless and true direct procurement from the country of origin straight to retail warehouses".
The products covered are grapes from India, South Africa and Egypt; citrus from South Africa and Egypt, and limes from Mexico and Brazil.
According to co-founder and CEO Andreas Schindler, retailers would be able to buy directly from the company's global network of growers, while Don Limón would support them with its risk management service to overcome the many supply chain eventualities that occur with perishables.
Don Limón said the model would allow buyers to become more involved in the production process and develop a long-term understanding of the supply chain.
"We offer retail buyers a variety of exceptional services to further strengthen their sourcing from overseas; from direct procurement and grower introductions to personnel recruitment, office space and establishing local sourcing hubs," Schindler said.
"We also provide them with the opportunity to make decisions about quality control at the source, pesticide residue management, logistics, and repacking for citrus or heat-sealing for grapes."
Schindler continued: "we have the people skills, the product knowledge and the brand reputation to bridge the gap between growers and retailers. We are production focused, we know the growers, we understand the supply chain and we are experts in communication and problem solving.
"Each of our traders is specialised in a specific product, and assigned to individual customer accounts. Our traders take the job seriously."