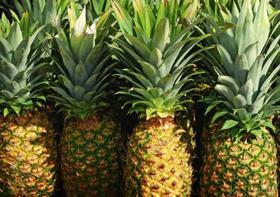 The Dominican Republic's Association of Pineapple Producers of Monte Plata (Asopropimopla) has signed a marketing deal with Italy's Nicofrutta and Nicoverde from Costa Rica to export its pineapples.
Under the agreement, 80 per cent of Asopropimopla's pineapple volume will be sea freighted to the European market, where Nicofrutta will be the sole marketer to retailers and other customers.
The producers will also receive technical assistance from Nicoverde on how to grow more sustainably while ensuring they meet quality requirements of international markets.
Asopropimopla said the deal represents a major milestone in the development of the Dominican pineapple sector, and will generate new jobs and contribute to the economic and social growth of producers in Monte Plata.
The agreement was signed in San José, Costa Rica, by Luciano Nicolis, president of Nicofrutta; Jorge Sánchez, general manager of Nicoverde; Joelín Santos Contreras, president of Asopropimopla; and Svenja Paulino, director of the Field to Plate Programme of the German Development Cooperation, GIZ, which supports Asopropimopla.