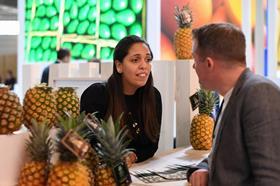 The government of the Dominican Republic has launched a new strategy to boost the country's fruit exports.
The Strategy for the Preparation of the National Fruit Programme (Pronafrut), focuses on improving post-harvest management with a view to increasing exports of avocados, mangos, pineapples, citrus, melons and other products.
It will provide training for growers in varietal selection, plant health and sustainability, while also seeking to improve other key areas such as logistics and marketing.
Presenting the strategy this week, fruit specialist Rafael Marte said that better post-harvest management could lead to productivity increases of up to 50 per cent.
Agriculture Minister Limber Cruz highlighted the importance of agricultural exports in generating value, foreign exchange and jobs for the country.
The ministry has formed a commission made up of vice ministers and specialists from the agricultural sector, in order to implement the strategy.
"We must increase fruit exports in the Dominican Republic. We have the potential, we have the land, we have the knowledge, I know we have to learn more, but there is a lot of knowledge, especially about post-harvest, which is extremely important in exports," he said.