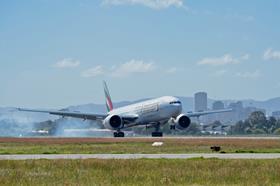 Dubai International airport, one of the busiest in the world, had to suspend operations for almost six hours yesterday after an Emirates passenger jet crash-landed on the runway.
The airport was closed immediately following the incident, which occurred at 12.45pm, but one of the two runways reopened just five-and-a-half hours later.
Although the airport's closure may have cost Dubai in the region of US$300m, according to one estimate, trade appears to have been unaffected thanks to the speedy response of airport staff.
"It was dealt with very professionally, with zero panic," said Hani Ayloush of Dubai trader Fruit Line Trading. "The airport was closed, but all incoming flights were diverted to other nearby airports. Sharjah airport is only 10 minutes away, while Al Maktoum airport in Jebel Ali has already opened to cargo."
Although no passengers lost their lives, one firefighter was reported to have died during the rescue operation.