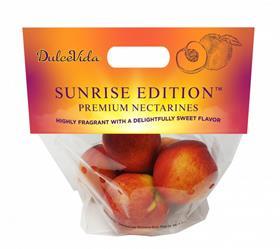 Giumarra has announced that its premium trio of DulceVida-branded California nectarines will return to grocery stores this summer after making their debut last year.
The French-bred Midnight Edition, Twilight Edition and Sunrise Edition varieties will be available in 2.5lb or 4lb high-graphic corrugated consumer boxes and plastic handled bags.
"We are veryeager forthis summer's return of our proprietary, premiumDulceVidanectarines, as our customers and consumers love their sweet taste," said Jeannine Martin, corporate vice president for The Giumarra Companies and director of sales for Giumarra Reedley/Kingsburg.
"Additionally, we believe our packaging is perfect for online orders and home delivery.We now offer clear lids that help protect our fruit inconsumerboxes, which also stack beautifully for in-store merchandising displays."
Each DulceVida limited edition has a unique appearance and different availability. Midnight Edition, a yellow-fleshed nectarine with a dark, speckled exterior colour, is available from mid-June through to early August.
Twilight Edition, a white-flesh nectarine with frosted fuchsia skin, is available from June to mid-August. Finally, Sunrise Edition, another yellow-fleshed nectarine with rose red to deep berry skin, is on sale from July to mid-August.
Martin noted that the company has developed its DulceVida nectarines over the course of many years with our California stone fruit growers.
"Our family has been a proud California stonefruit grower for decades – we are now in our fourth generation," said Tim Thiesen, who also managesthe DulceVida test orchard in Reedley, California. "Even though it takes several years to plant, grow and test these very special varieties, we really love growing these amazing DulceVida nectarines for Giumarra.
"We are very passionate about providing such high-quality California-grown stone fruit for consumers to enjoy across the US."