Exports of containers are moving again from the port of Durban following recent flood damage
South Africa's Citrus Growers' Association (CGA) says export containers are again beginning to flow from the port of Durban after devastating floods in the Kwa-Zulu Natal region last month.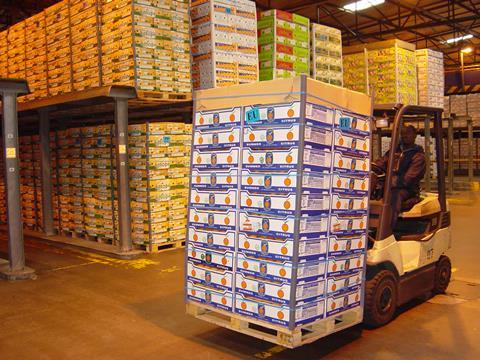 The floods caused extensive damage to container depots and access roads to the port. More than 400 people lost their lives in the region and the flooding dealt a devastating blow to the local economy. While exports were disrupted, the flooding also affected cargo flow to the interior with fuel stocks being affected.
In CGA's latest update, CEO Justin Chadwick said that while the initial emphasis was on evacuating imported containers from the port, export containers are starting to flow, albeit at a slower pace.
"With the two outgoing lanes to the container terminals operating efficiently, work is expected to be completed on the ingoing lanes by as early as next week. This has been achieved through the hard work of Transnet, Department Public Enterprises, and eThekwini Municipality," said Chadwick.
The port of Durban is vital for South African citrus exports, while a large percentage of shipments of apples and pears to Asia also pass through the part after being brought overland from the Western Cape.
"So far we have been able to get most apple and pear consignments through the port," said Hortgro's Jacques du Preez.
CGA previously confirmed that the export programme through Durban was expected to pick up from the end of April. A return to normality will be crucial for South Africa to ship its projected citrus export crop of 170,000 cartons.
CGA says the grapefruit season is progressing on par with last year. "Packing of Class 1 and 2 fruit is very much in line with 2021, with just 2m cartons packed to date," said Chadwick.
Grapefruit for processing is ahead of 2021, he added, doubling last year's figure, while exports remain in line with 2021 volumes.
"A smaller percentage has been shipped to the EU at around 31 per cent versus 48 per cent in 2021," said Chadwick. "Russia understandably has also dropped from 11 per cent to 1 per cent. South-East Asia seems to be where this fruit has been sent – taking 58 per cent in 2022 versus 30 per cent in 2021."
Packing of lemons is well below 2021 levels – with 4.8m cartons shipped, versus 7.2-7.4m cartons in the previous two years, CGA noted.
"Lemon shipments are also down – at 3.5m cartons in the year to date versus 5.1m cartons in 2021," said Chadwick. "Russia's share is down from 18 per cent to 5 per cent while the Middle East has also decreased from 61 per cent to 54 per cent.
"On the other hand, the EU share has grown from 2 per cent to 10 per cent. South-East Asia, led by China, is up from 13 per cent to 18 per cent, and North America has increased from 4 per cent to 7 per cent."
South Africa is expected to ship 16.5m cartons of grapefruit this year compared to 17.5m cartons in 2021. Lemons export shipments are estimated at 32.1m cartons on a par with last year.
The all-important soft citrus and mandarin season is only expected to gain momentum this month, with 34.5m cartons forecast to be exported compared with last year's 30.9m cartons.