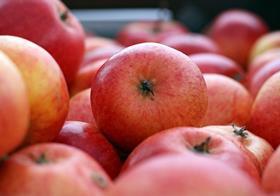 The Netherlands exported a total of 53,000 tonnes of domestically grown apples during the first seven months of 2011, down 18 per cent on same period of the previous year.
According to new data published by national horticultural body Productschap Tuinbouw, the country recorded significant losses in terms of its apple sales to major foreign customers between January and July, including the UK (dowwn 51 per cent), Russia (-24 per cent), France (-43 per cent) and Sweden (-54 per cent).
Strong demand in Germany during the first two months of the year reportedly contributed to an overall 2 per cent increase in shipments to the country up to the end of July.
Research body AMI revealed this week that German households each spent €1.95 (8 per cent) more on apples during the 2010/11 season, bringing average per-household spending on the fruit to €25.68 for the period.
However, the total average volume of apples bought by German consumers last season decreased 1.2 per cent to 18.3kg.
Meanwhile, Dutch apple sales to Poland during January-July were also up slightly to 3,700 tonnes, according to Productschap Tuinbouw.