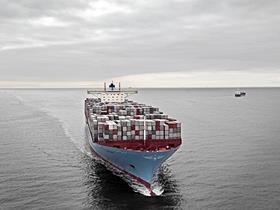 The European Commission has launched a formal investigation to see whether or not many of the world's largest container shipping operators have been colluding on price increases since 2009 on routes to and from Europe.
The decision, announced late last week and expected to last several years, follows a number of reported raids two years ago on companies including Maersk Line, CMA CGM, Hapag-Lloyd and Neptune Orient Lines.
Under EU anti-trust rules, companies found guilty of fixing prices and stifling competition can be fined as much as 10 per cent of their international turnover.
If found guilty, therefore, market leader Maersk Line alone could be liable to a financial penalty of more than €1.5bn based on its own revenues, or indeed double that figure if the fine were to be based on group turnover.
The Commission aired concerns that the lines appeared to be alerting each other to price rises through media announcements and online channels.
'The Commission has concerns that this practice may allow the companies to signal future price intentions to each other and may harm competition and customers by raising prices on the market for container liner shipping transport services on routes to and from Europe,' it said.
Reuters, citing a source 'familiar with the matter', reported that 14 companies in Europe and Asia would be targeted by the new investigation.
In a statement, meanwhile, Maersk Line's parent company AP Møller-Mærsk confirmed it was part of the investigation and would cooperate fully.
'AP Møller-Mærsk has no reason to believe that Maersk Line has behaved in a manner not in accordance with EU competition law,' it said.
French group CMA CGM also said it had been informed it was under investigation and that it would offer its full compliance.
Before 2006, the commercial activities of shipping companies were not subject to EU competition rules, enabling them to establish so-called 'liner conferences' to share market information.
When the exemption was rescinded, operators were given two years to fall in line with the new regulations.