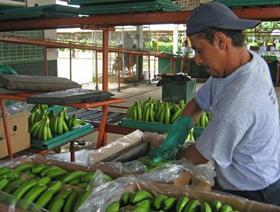 Ecuador exported 135.7m boxes of bananas between January and April this year, an increase of 6.5 per cent compared to the same period last year.
Richard Salazar of exporter association Acorbanec said shipments were holding up well in spite of the challenges of the pandemic, which has hit the country's banana-growing regions particularly hard.
"We continue to export, despite seeing a reduction in demand on global markets, and once this crisis is over we are sure that our fruit will have a great position in the world market," he said. "We hope to exceed 2019 shipments, both in volume and value."
However, exporters are calling for urgent government help to provide liquidity to the sector, which has been severely affected by late- or non-payment from importers in key markets.
Among the measures required, said Salazar, are a reduction in taxes and more flexible purchasing contracts.