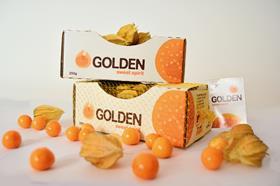 Ecuador's biggest producer of physalis says the fruit could become the next superfood thanks to its nutritional benefits and attractive appearance.
Following the recent opening of the US market after more than a decade of negotiations, Dennis Brito, managing director of Golden Sweet Spirit, claims there is huge potential to develop sales in this and other markets over the coming years.
"Colombia has been in the US market for some time and has seen really nice growth," he told Fruitnet.
"Up to now Europe and Canada have been our principal markets, but the opening of the US could change that as it has a huge consumer base and is just three and a half hours away by plane and less than six days by sea."
Brito is similarly optimistic about the outlook in Europe, where he believes that positioning the fruit like a berry, with similar nutritional and convenience attributes, could help to raise its profile among consumers.
"It is 40 years since physalis was introduced in Europe and it could do with a revamp," he says. "It is the only berry with a beautiful orange colour, its freshness and flavour elicits an explosion of mixed sensations, and you cannot imagine all the nutritional benefits – as well as having extremely high levels of antioxidants it is one of the best sources of calcium in the fruit world."
Physalis fruit is native to the Andes and in Ecuador its cultivation dates back to pre-Inca times. Today production is mostly in the hands of small and medium-sized farmers in the Sierra Norte region at an altitude of between 2,000 and 3,000m.
Golden Sweet Spirit sources its fruit from around 270ha of land –a mixture of own production and farms belonging to associated cooperative producers – which is spread over six provinces and is all GlobalGAP certified. The company processes and packs the fruit throughout the year at its recently-opened facility in the province of Cotopaxi, 50km to the south of Quito.
For a company who cites its founding principles as "quality, sustainability and social responsibility", it's no surprise that all of its production is carbon neutral.
"We follow the UN's Sustainable Development Goals as for us it's very important to produce a zero-carbon product. But it's also important to offer the freshest product possible, which is why right now all our exports are airflown," Brito says.