Volumes will be down 70-80 per cent in 2023/24 says ProMango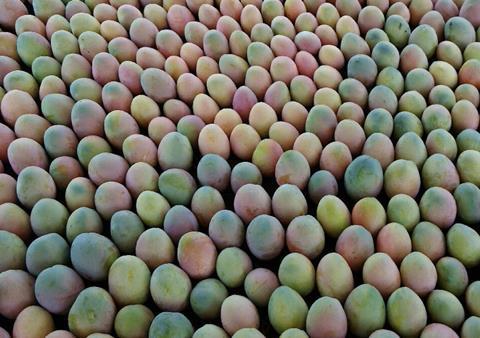 El Niño is having a major impact on Peru's mango export season. Warm winter temperatures have resulted in very low levels of flowering, severely curtailing production volumes.
Angel Gamarra, president of industry association ProMango, said the sector is braced for a decrease in production of between 70 and 80 per cent in the 2023/24 campaign.
"The impact on volumes is severe," he told Fruitnet. "There are no problems with the quality of the fruit, and the sizes are normal and similar to previous seasons – the main problem is logistics. With such small quantities of fruit being harvested on each farm, several harvesting teams and small motorised units of up to 1 tonne are having to be used to collect the crop and this is pushing up harvesting and transportation costs significantly."
According to Gamarra, in all three of Peru's main production regions – Piura, Lambayeque and Ancash – El Niño has impacted the crop during flowering and therefore affected the size of the harvest.
He noted that while some producers will manage to cover their production costs, the majority will be working at a loss this season, with a number of farms having "zero production".
"This week is the Peruvian Association of Mango Exporters (Apem) will hold its annual conference, during which it will collate figures from all the growers/exporters and following that we'll have a better idea of numbers and percentage losses," said Ian Crispin, commercial director at UK importer Pacific Produce.
Asked how European retailers will cover the shortfall left by Peru, Crispin commented: "I'm not sure there are too many other options at that moment. Brazil will be finished in the most part, Central America is yet to begin, so it's going to be very complicated with few other options available to them.
"Competition will be fierce this year, not just within Europe, but all from other markets such as the US, so as an organisation we are looking beyond just this pending season, aiming to maintain and support our ongoing clients whilst having to ensure the farms remain in business."
Almost all Peruvian mango exports (93 per cent) are made up of the Kent variety, the remainder comprising Ataulfo, Keith, Edward and Haden.
Gamarra said there had been no delay to harvesting, which got underway in the first week of October, but the volumes shipped to date had been very small. "Right now a significant volume is being shipped by air, mainly to Europe and Asia," he noted.
Peru exported 249,314 tonnes of fresh mangoes in 2022/23 (October to April), an increase of 7.3 per cent on the previous season, according to figures from Apem.
The main destinations were Europe (132,731 tonnes) and the US (92,632 tonnes). Together these two markets accounted for 90 per cent of the exported volume.