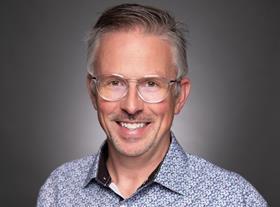 What has Emerson focused on in the past year?

Gerd Uitdewilligen: Our cold chain business continues to focus on customer-driven enhancements to our integrated suite of tracking devices, cloud-based software and value-add services.
Recently, we released a single sign-on feature for our online Oversight software platform, which provides in-transit tracking of shipper temperature and location data via our Go wireless loggers, Go NFC (near-field) loggers and Go real-time tracking devices.
This single sign-on allows our customers to enter their credentials and view real-time conditions of their perishable shipments within Oversight – which can be accessed either on a desktop computer or via a mobile application.
The centralised platform provides a consistent user experience from any location and features significant interface and functionality enhancements.
When used with our real-time trackers, customers can view live in-transit shipment data (temperature and location) and receive alerts to help them manage perishable product safety and quality. Wireless loggers provide access to this information when a shipment reaches its destination, allowing customers to view alerts and/or export trip data upon product receipt.
The single sign-on to Oversight enables robust automated reporting, real-time alert information and historical data that empowers our customers to make better-informed business decisions.
What additions have you made to your offering?
GU: In August, Emerson launched its Go USB logger suite of products, which is designed to help growers, shippers, third-party logistics companies, retailers, foodservice and life sciences companies record and view critical cold chain data.
Go USB loggers are programmable, reusable and available in three models to collect information on in-transit shipper temperature (Go USB Temp), humidity (Go USB Humidity) and perishable pulp temperatures (Go USB Probe).
Upon arrival at the shipment destination, end users can download vital cold chain information from their Go USB logger to help ensure the maximum freshness and safety of temperature-sensitive products.
Go USB loggers can capture a wide range of data to help our customers protect their cold chain, including mean kinetic temperature, minimum/maximum temperatures and humidity, average temperature and alerts.
All these data points can be viewed on a liquid crystal display (LCD) and in an automatically generated PDF report when the logger is connected to a PC.
An audit trail is also provided within the PDF report, with time stamps showing a list of key events recorded when the logger was in use.
And with one software package for all three products, the loggers are flexible enough to be used alone or together, helping to address a variety of applications and meet our customers' unique cold chain measurement needs.

For the full interview, see the October issue of Eurofruit