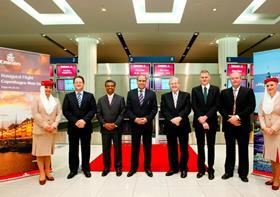 Leading airline group Emirates has opened to a new market with the launch of a service to Copenhagen in Denmark, the group's first service of its kind to Scandinavia.
The non-stop daily service links Dubai with Copenhagen, the group's 114th destination, and is served by an A330-200 in a three-class configuration that holds up to 17 tonnes of cargo in the belly-hold.
'Copenhagen brings a new and exciting dimension to the Emirates' network,' said Richard Vaughan, Emirates' divisional senior vice-president, commercial operations worldwide. 'Emirates' passengers from Scandinavia no longer need to travel to Germany to join our flights. They can travel directly from the Danish capital all the way tothe Far East and Australasia, via our ultra-modern hub in Dubai.'
The cargo hold of the inaugural flight to Denmark contained fruit and vegetables from the Indian subcontinent, Emirates revealed.
'This new link opens up Scandinavia for Emirates on the cargo side too,' said Pradeep Kumar, Emirates' senior vice-president, cargo revenue optimisation & systems. 'We have been sending in freighters to Gothenburg in Sweden since 2003, but this additional channel, feeding into our vast and efficient network, will be welcomed by importers and exporters by offering more frequencies and cargo capacity.'
There are almost 100 Danish subsidiary companies established in the United Arab Emirates with about 80 agents/distributors for other Danish companies. Also, more and more delegations from Denmark are regularly visiting the UAE.
So far in 2011, Emirates has launched passenger flights to Basra and Geneva. Services to St Petersburg will be launched on 1 November, followed by Baghdad on 13 November.