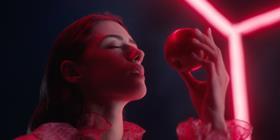 The first ever television advertisement to promote sales of homegrown Envy apples in Italy has gone live.
Commissioned by Vog and Vip, who are jointly responsible for producing and marketing the licensed product, the short but sweet cinematic clip features high production values and appeals to the sophisticated senses of a consumer willing to pay a little extra for quality.
The message: tasting is believing. According to its promoters, this is an apple capable of arousing a range of sensations thanks to its unmistakable red colour tinged with yellow, its white flesh and its extreme juiciness, sweetness and crunchiness.

'We brought Envy to the television for the first time and we wanted to do it with an unusual cinematographic language for an apple, drawing on a more evocative and suggestive type of communication, the one used for example in the world of perfumes or chocolate," explains Benjamin Laimer, marketing manager at Vip.
'In this way," adds Vog marketing manager Hannes Tauber, "the commercial conveys to the consumer the seductive idea of ​​a product of the highest quality, which can offer a unique experience on a sensory level."

The advert transports the viewer to a fairytale land. A woman walks towards a golden gate in the form of the Envy logo. Once she enters, she finds herself in a mysterious place, where the inviting red apple stands illuminated on a glass pedestal.
One glance is enough: she grabs the apple and bites into it with gusto, releasing its intense aroma and revealing the incredibly sweet, juicy fruit inside.
'In a landscape of consumers who are increasingly attentive to wellbeing, but who do not want to give up the pleasure of taste, the strategic and creative approach for Envy was to talk about the apple in a distinctive way, to open a sensory world and enhance its extraordinary organoleptic characteristics," says Francesco Bozza, chief creative officer at Grey, the agency which created the commercial under the direction of Federico Brugia and with production by The Family.