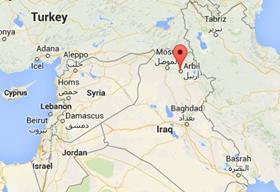 Fighting to halt the advance of extremist group Isis, or Islamic State, in northern Iraq has caused delays to the construction of the Food Distribution Center, a major investment project in the Kurdish city of Erbil.
Airstrikes from US and Iraqi forces on Isis targets, as well as clashes between Kurdish troops and Isis fighters, have put new infrastructure facilities on hold, according to Bilal F Hussain Al Tamimi of Sina Group, one of the companies behind the project.
'Construction in Erbil has been delayed due to the current circumstances,' he told eurofruit. 'Maybe in three to four months' time we will be able to finish the first phase of the project.'
The growth and expansion of the city has necessitated the construction of new infrastructure facilities, he said, with many seeing great potential for a fruit and vegetables hub in northern Iraq.
'We are just finishing the first phase of the project,' he said, 'which includes five buildings, each containing 34 shops, a wholesale market, offices and cold storage facilities.'
Once completed, the facility will reportedly measure approximately 300,000m2.
The current political situation in northern Iraq has equally been bad for Turkish companies supplying the country, according to Ayşe özler of exporter özler Ziraat.
'Iraq had become a great market in the past five or six years,' she said, 'one of the top three export markets for Turkish fresh produce. But the recent situation with Isis has made it very difficult, and a lot of Turkish exporters have suffered as a result.'