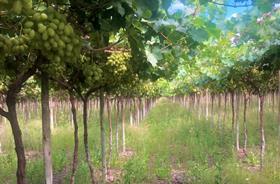 The Namibian table grape export season is now fully underway, with the first significant container shipments leaving the port of Cape Town for Europe this past weekend.
Bouyed by excellent weather conditions and a larger crop, the growers in the Aussenkehr Valley in southern Namibia all started packing at the beginning of last week.
Growers have said that, from the middle of last week, around 60 containers per day left the Valley for the long road journey to Cape Town.
These containers were loaded in Cape Town over the weekend and will be arriving in Europe and the UK in two weeks' time.
The Namibian industry is optimistic that it will reach its target of around 7.5m cartons this season.
In recent years export volumes have been holding around the 6.5m carton mark, after initial predictions that the industry would reach 10m cartons by 2020.
During these years there has been a major transformation in the cultivar profile in Namibia, with leading new varieties in the world replacing some of the older ones.
It seems that these varieties are now making their mark and Namibia is set for growth of around 7 per cent every year for the next five years.
The early production areas in South Africa are also expected to start packing reasonably soon.
The South African industry organisation SATI, in its first crop forecast, predicted that harvesting in the early areas would be between seven and ten days later than normal.