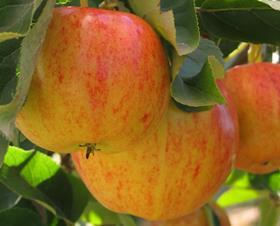 The campaign to promote Bicolored Apples from Europe returned to the UAE last week, with tastings taking place in supermarkets in Dubai, Abu Dhabi and Sharjah until 26 February.
Residents in the UAE are being given the opportunity to sample the sweet-sour taste of a range of European varieties, including Gala, Red Jonaprince, Idared, Gloster and Ligol.
Supermarket chains taking part in the tastings include Choithrams, Emirates Cooperative Society, Abu Dhabi Cooperative Society, West Zone, 7-Eleven, Spar, Carrefour, Geant, Zoom and Al Maya.
According to the campaign, the apples promoted are produced in orchards that benefit from years of tradition and experience, as well as the most advanced technologies.
"The apples are stored in ULO technology and they are transported in conditions which guarantee that the product received at destination is fresh and of quality that is bound to satisfy the most demanding consumers," the campaign stated in a press release.
Bicolored Apples from Europe are exported to the UAE mostly by sea, from the ports of Gdynia (Poland), Hamburg (Germany), Trieste (Italy) and Koper (Slovenia).